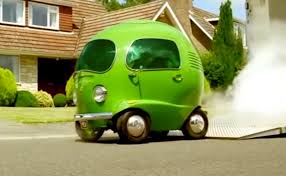 I've written in the past about how to transfer title of a vehicle into a beneficiary's name after probate, and in that post reference the possibility that use of the Nevada DMV's Affidavit for Transfer of Title for Estates Without Probate (Form VP-024) may sometimes be more appropriate. That is indeed the case when the deceased (aka the decedent) left behind a vehicle and the following is true:
The total value of the decedent's probate estate is less than $25,000,
Probate proceedings haven't already been initiated,
All debts have been addressed,
The person completing the affidavit (the "affiant") has properly notified all those similarly entitled to the vehicle, and
The affiant is truly entitled to the vehicle.
If you believe these facts are true and are willing to swear under the threat of a felony to them as stated on the form along with the information you add to it, then here are the steps to completing the form:
Write your full name as affiant.
Write in the date and the name of the deceased vehicle owner.
Write in your relationship to the deceased.
Write in the year, make, and model.
Write in the vehicle's VIN.
Explain your reason for being personally entitled to the vehicle or your entitlement on another's behalf.
Write in your address.
DO NOT SIGN!
Upon completion, bring the form, the certificate of death, and the title to the DMV. You will sign the form in the presence of the DMV representative. If you do not have the title, the representative can usually order a duplicate title and then immediately process the Affidavit on the spot.